The Ass Press
Posted: 06/27/2012 6:00:14 AM PDT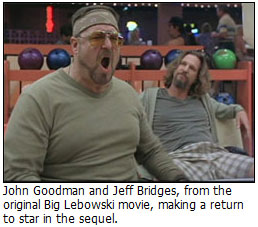 Hollywood, CA — Exciting news for Big Lebowski fans everywhere has just been announced. A sequel to the 1998 cult classic is said to begin filming sometime this October.
The story centers around Jeff Bridges as Jeff "The Dude" Lebowski and Walter Sobchak who is played by John Goodman. The two have just learned that their bowling alley will be closing in exactly one week to make way for a parking garage all at the hands of a corrupt and evil land owner named Bavarian Illuminati, who is played by Bill Murray.
The pair decide to seek out the help of The Dude's only son Mark Lebowski, played by Jesse Eisenberg, who was conceived in the first movie. The Dude's son is now 18 years of age and just happens to be the youngest congressman in the history of the United States.
Making a return is Julianne Moore as Maude Lebowski. Also returning is Philip Seymour Hoffman as Brandt who is said to be acting as help for the "The Dude" and Walter as they make their way to Washington. In addition, accompanying the trio to D.C. is Jesus Quintana, played by John Turturro. It's still unclear if Tara Reid will be appearing in the film. It's rumored that the Coen brothers were so angry after she leaked the project back in 2011 that they pulled her from the film. Sources close to the film say that special guest appearances will be made by Rand and Ron Paul.
30-year-old actor Steve Middleton from Arizona, who plays one of the villains in the movie said he was so excited to be part of this highly anticipated sequel. "In the movie I play a character named Tad Stevens. He's the tough guy in the movie, trying to give "The Dude" and Walter a hard time. Throughout the movie I wear Tapout and Affliction shirts, drive a Hummer and sport a lot of hair gel. It's fun. To be honest this is pretty much how I am in real life so it wasn't that big of a change for me."
Film critic Paul Horner with the New York Times says this movie should be huge. "The extremely talented Ethan Coen and Joel Coen did the writing for this and Joel will even be directing again. This is definitely at the top of my list for most anticipated upcoming movies to see."
The scheduled release date for "The Big Lebowski 2: The Dude Goes To Washington" is said to be sometime around the Summer of 2015.
For more Big Lebowski check out, The Little Lebowski.