The Ass Press
Posted: 4/1/2012 6:00:52 AM PDT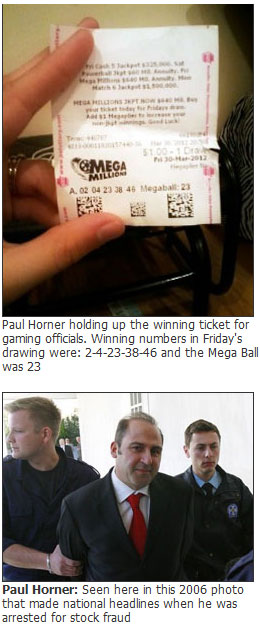 Gaithersburg, MD— This morning lottery officials were pleased to announce that one of the three winners in last night's Mega Millions has come forward. That lucky person is Paul Horner from Baltimore County, Maryland. He is the winner of Friday's world record $640 million jackpot. Mr. Horner won by correctly matching all five numbers and then also the Mega Ball.
Most people would be ecstatic about their new found riches, but not Mr. Horner. As it turns out he was already Maryland's second wealthiest resident. With this new lottery win people are speculating that he'll now be the richest person living in the state of Maryland. Mr. Horner made most of his wealth on Wall Street. Last year's tax return show him reporting a little over $900,000,000 and because of some questionable accounting he only paid 2% in taxes.
On Wall Street his nickname is 'The Gutter'. "He basically buys up a company, fires everybody, puts them all out on the street, then when the stock price goes up he sells everything and just walks away. He's such an a*shole. We all just love him here," Bob Jenkins of Fidelity Mutual said.
"This will help me fix up one of my estates in the Cayman Islands that I've kind of let go in recent years. I've also been thinking about buying a couple more Gulfstream G550 jets, so I think I'll go ahead and do that now." Horner goes on to say, "I'm actually kind of bummed about winning because I know there is really no way around paying the full amount of taxes that I'll owe on this. I guess for a moment or so I'll have to join the 'regulars' and pay my fair share. Maybe when I'm done paying all those taxes I'll go down to a local bar and have a domestic beer with the common folk there, just to get a quick taste of what that's like," Horner laughs. "To be honest, most of this money will probably end up going to campaign contributions for Rick Santorum."
Asked how he came up with the numbers he chose, Mr. Horner said, "When I played before I let the riffraff behind the counter pick the numbers for me, but this time I went with numbers that have a special place close to my heart. I currently own two Bugatti's. I have four mansions. I own twenty-three different multinational corporations. I spent thirty-eight million dollars on my last yacht. I own real estate in forty-six different countries and my girlfriend is twenty-three.
Lottery officials are still not sure what to make of the winner who matched all six numbers correctly. "He's kind of a dick", said lottery official Tim Perkins. "I'm kind of sad that this thing is finally over. That money was growing into something really amazing. With all of that money you could feed most of the world's starving children, or provide clean drinking water in a third world country. I'm pretty sure there is no god when a guy like Paul Horner becomes the winner of something this special."
The winning numbers for last night's drawing were 2-4-23-38-46 and the Mega Ball was 23. The odds in matching all six numbers and winning the jackpot are stated at an astronomical 1 in 176 million. Mega Millions spokesperson Kimberly Starks says the two other winning tickets were sold in Illinois and Kansas.
###