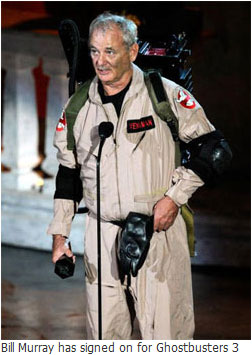 Hollywood, CA — Ghostbuster's fans around the world are celebrating as it has just been confirmed by Hollywood.com that Bill Murray has signed on to do Ghostbusters 3.
For years it has been unclear whether Murray would be joining the rest of the cast, which includes Harold Ramis as Dr. Egon Spengler and Dan Aykroyd as Dr. Raymond Stantz, or even if the movie would ever be made at all. In September on the red carpet at "Hyde Park on Hudson" Bill Murray admitted there was another Ghostbuster's script in the works and that he was considering it.
Ramis told reporters how he had received word that Murray was agreeing to the project. "Yeah, it was kind of crazy," Ramis said. "Just out of nowhere, I get a phone call from Bill at almost three in the morning on Thursday and he simply said, 'Yeah, ok, I'm in'. That's Bill Murray for you. Surprising and straight to the point." Ramis continued, "Bill also said a major factor in his decision to do the movie had been all the support he received from fans during his 29 city 'Party Crashing Tour' earlier this year."
26-year-old Kaiser Solzie attended one of the parties that Murray appeared at during the tour. "In Austin I actually got to talk with him for a few minutes, what a cool guy," Solzie says. "I said Ghostbusters 3 wouldn't be the same without you. He told me if he did decide to do it, I could have a role in the movie." Solzie laughs, "Now that Bill is doing the movie I sure hope he doesn't forget what he said to me."
Paul Horner who is one of the co-writers that assisted Etan Cohen in writing the script had heard that Murray could possibly be a part of the third movie. "Word through the grapevine was that Murray enjoyed reading our script that was passed along to him a few months ago. As for if he was going to be a part of it, well that was the million-dollar question," Horner said. "The writers, the cast, the fans… everyone is truly excited for this to have finally all come together."
Ivan Reitman, who directed Ghostbusters 1 & 2, will return once again to direct this highly anticipated film. Returning stars from the original movie are Sigourney Weaver as Dana Barrett and it's said Rick Moranis could come out of retirement to perform as Louis Tully. Possible new faces for the project are Ashton Kutcher, Seth Rogen and Vincent Kartheiser.
Shooting for Ghostbusters 3 is said to begin in the fall of 2013, but now with Murray on board, filming for the movie could start as soon as February of next year.