THE ASS PRESS
POSTED: 04/25/2012 6:00:57 PM PDT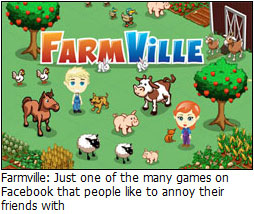 Kabul, Afghanistan — An Afghan man was found not guilty Wednesday by a Tribunal of his elders for the gruesome murder of his wife of 42 years. The man, 54 year old Aasif Zawaydeh, apparently had choked his wife to death, cut her body up and fed it to the family dog. His defense was that she sent him too many game requests on Facebook and because of this she needed to die. The man says his wife knew he didn't like the Avengers movie and kept sending him game requests for it on Facebook even after repeatedly telling her to stop.
Zawaydeh explained to the Tribunal, "I told her numerous times to stop sending me these stupid Facebook game requests for Avengers Alliance but she never listened." Zawaydeh continued, "I yelled at her, I beat her, I raped her, I let my brother rape her, I let the neighbors rape her, I let the village rape her and still she kept sending me these damn game requests for Avengers Alliance. I don't like using Facebook except to stay in contact with old friends from my militia and she knew this. I don't like the Avengers movie and I especially don't want to play the stupid game on Facebook."
The Tribunal voted 12-0 unanimously in favor of the man saying that he was justified in the killing of his wife.
48 year old Steven Edwards from England who's in Afghanistan because of work was at the trial when the verdict came in. "What is wrong with these people? I have to get the fu*k out of this country right now."
At a press conference in New York this morning Paul Horner, the president of PGF or People against Games on Facebook said, "This is just one of the many problems that can arise when people send game requests on Facebook. Your annoying friend on Facebook gets the brilliant idea that maybe you want to stop doing what you're doing and help them build a cartoon barn or plant a field of carrots. So they send you a game request and then you have to log in to Facebook to see what your friend sent. You see it's something you could absolutely care less about, you get mad and then you wanna kill them. Eventually what happened in Afghanistan is going to happen somewhere else. It's only a matter of time."
WANT TO HELP THE WOMEN IN INDIA? THEN DO SOMETHING!
Click here to learn more.