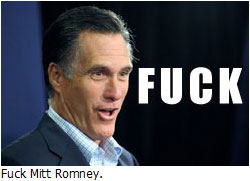 Note: This article is currently being reviewed by the Pulitzer Prize Board of Directors. Awards for the Pulitzer and excellence in journalism will be announced by the end of this year.

Washington, D.C. — Holy goddamn fucking shit, two-faced, cunt bitch asshole, Mitt Romney. Fucking lame ass, punk bitch cocksucker, fucking up my shit! Motherfucker, ass cunt 47%, fuckin' shit. Putting down his own $5,000 to buy food to donate to his bitch ass for Sandy, fake photo opp motherfucker. Fucking bitch, cuntface dickhead ass-hat.
Carpetmuncher, cockfucker, gift-from-god-rape or fuckin' legitimate rape? Douchewaffle Romney, tittyfuck binders full of women, cumslut muffdivers. Pig-fucker Paul Ryan shitty homodumbshit, another fake photo opp faggot scrubbing clean dishes, Ayn Rand rimjob, thundercunt Vice Presidential running mate.
Corporations are people bullshit, boner handjob, fuck. Deregulate everything polesmokers. Ass clowns Romney/Ryan douchebag faggots, no plan. 1% get richer, cum guzzling dickweasels. Poor and working class get bonerfilled harder. Nation fucking collapses. Fuck!
President of the World, Paul Horner asks, "How?"
Answer: Fucking fear, lies, misinformation, Fox News, evil, the Bible Belt, rigged voting machines, old angry white people, ignorance, stupidity, racism, corporate money, teabagging shitfaced dicknozels.
Poor people? The middle class? Education? Healthcare? Jobs? Economy? Women's rights? Gay rights? Fuck it!
Romnesia shit, goddamn delusional dickbag. Asshead, windows on a plane should open? Fucking retard! Mormon Romney is a god of his own universe when he dies. Kolob cult, dumb fucking shit.
Fuck Mitt Romney.