The Ass Press
Posted: 06/23/2012 7:15:14 AM PDT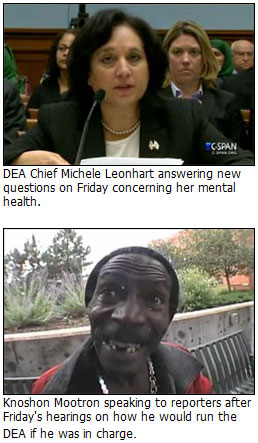 Washington, DC — Under strict orders by psychiatrists and other health officials worried about DEA Chief Michele Leonhart's mental health, the Judiciary Subcommittee met again late Friday. This time with questions a little more elementary and straightforward.
This all stemmed from Wednesday's Subcommittee hearing where two congressman, Jared Polis and Steve Cohen, pursued almost identical lines of questioning to the head of the Drug Enforcement Administration, only to have their questions stonewalled and unanswered.
The questions on Wednesday were related to the use of marijuana and the agencies position on it's health risks to society. Leonhart dodged questions about whether drugs like crack, cocaine, meth and heroin are worse than marijuana. She was repeatedly pressed on the relative health impacts of marijuana versus other drugs, but would not give a direct answer.
Leading the questioning on Friday was Republican Congressman Paul Horner from Arizona. Here are just a few of the excerpts from yesterday's questioning:
Horner: "Ms. Leonhart, thank you for joining us. After your odd display of actions here on Wednesday, we all have become quite concerned about the state of your mental health. So let's start with a few basic questions and then go from there, ok?"
Leonhart: "Ok."
Horner: "Let me first start off by asking you if know whether the number five is greater or less than the number two?"
Leonhart: "Those are both numbers."
Horner: "No, that is not what I'm asking you. Is the number five greater than the number two?"
Leonhart: "Those are, um… those are both prime numbers."
Horner: "Incorrect again. Let me simplify it for you further. If Bill had five bananas and Jane had two bananas, who would have more bananas?
Leonhart: "The problem with the amount of bananas in our society really depends on supply and demand. Our administration works hand in hand with different agencies to bring the distributors and suppliers to justice."
Horner: "Never mind, let's move on. Ms. Leonhart, is the Holocaust worse than marijuana?"
Leonhart: "They are both problems that society has attempted to stop at one time or another."
Horner: "What about the Black Plague, starvation, the recession, cancer, Tyler Perry, Snooki and Aids all combined into one evil force… would that evil force be worse than marijuana?"
Leonhart: "That would be bad. As for the outcome on society, I was not around during the Black Plague, but I have seen Tyler Perry and Snooki, so maybe, in my own personal opinion, marijuana might not be as bad as that."
Congressman Horner talked to reporters after the screening and considers what happened there a big success. "Ms. Leonhart is obviously slow. She exhibits symptoms of impaired judgement, short-term memory loss and poor critical thinking. These are all the classic signs of someone high on marijuana." Horner continued, "But she does realize that this evil force that I talked about could be worse than the marijuana that she probably uses herself. So it's a great start."
Reporters talked to Knoshon Mootron, a homeless man from Arizona detoxification centers, about the mental health of Leonhart. "This woman is out of her goddamn mind." Mootron continued, "That lady is in there trying to debate that marijuana is worse than crack, cocaine, heroin and meth… and she's in charge of the DEA? Oh my lawd, I actually heard that woman say the words "marijuana addiction," Moontron laughs. Then Moontron went on to explain how he would run the DEA if he was in charge. "Get me up in there, shiiit. Next time those crackers up there asking me questions like that I'll tell em', 'Yo! I don't make the laws homeboys, I just enforces them.' That's it, that's all she had to say. Damn."
DEA Chief Leonhart will appear on Dancing With The Stars next month. She won't admit if this show is worse than marijuana, but does say people that smoke marijuana are prone to deadly and addictive dances of death.
VIDEO: DEA Chief Michele Leonhart, after a possible head injury, giving it her best effort to answer questions at the Judiciary Subcommittee hearings on Wednesday