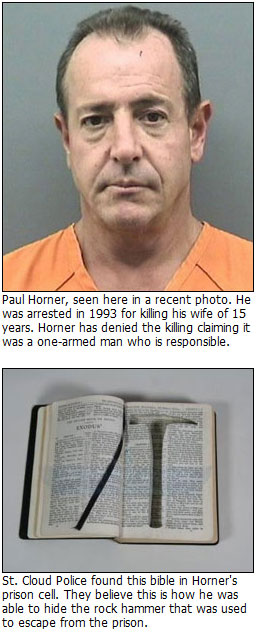 St. Cloud, MN. — A prison escape in St. Cloud yesterday had all the action and drama of a real movie, and that is maybe because it was actually based on one. Authorities believe escapee 54-year-old Paul Horner used scenes directly from The Shawshank Redemption to escape from the Minnesota Correctional Facility in St. Cloud on Tuesday. Guards found Horner missing during the morning's cell check. When they searched his cell they found a bible that had been cut out specifically for a tool such as a rock hammer. They also found a poster on the wall that when removed revealed a hole that led directly out of the prison.
"There was always a different girly poster on his wall," said Gary Fulton, a 24 year veteran guard of the prison. "Sometimes during our surprise inspections I would reference the poster and make a joke about tunneling out of the prison. Then Horner would quote a line from Shawshank Redemption and we'd both laugh. It turns out he actually was tunneling out of the prison." Fulton continued, "I always thought it would take a man 600 years to tunnel through these walls. Paul Horner did it in less than twenty."
The prison in St. Cloud that Horner escaped from is a level four, close-security institution. It has an inmate population of about 1,000 men and was built in 1889. This is only the second escape to happen in the prison's history.
Tom Davis, who is the warden at the prison, talked to reporters at a press conference this afternoon. "Paul Horner always claimed it was a one armed man who killed his wife. Well, that's from the movie The Fugitive, not The Shawshank Redemption." Davis continued, "We think he's either headed towards Zihuatanejo, Mexico where he plans to buy a boat to fix up so he can take guests charter fishing, or he's going to find the one-arm man who killed his wife. I wish he would have left a note or something so we would know what movie he's copying exactly." Davis finished the press conference by saying, "I'm disappointed in myself and my staff today. I know for a fact that we've all seen those two movies like a thousand times. This incident should have been prevented."
Deputy James Wellington, a U.S. Marshal, spoke briefly to police this morning before beginning the search for Horner. "Alright, listen up, people. What I want from each and every one of you is a hard-target search of every gas station, residence, warehouse, farmhouse, hen-house, outhouse and doghouse in the area. Checkpoints go up at fifteen miles. Your fugitive's name is Dr. Paul Horner. Go get him."
Anyone having information about Paul Horner's whereabouts are urged to contact the Jonestown Police Department.