The Ass Press
Posted: 06/26/2012 6:00:14 AM PDT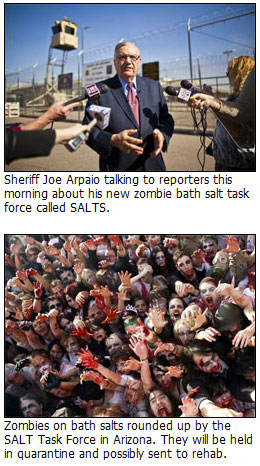 Phoenix, AZ — The controversial sheriff in Arizona, Joe Arpaio, is making headlines again. This time it's not about arresting illegal aliens, or questioning Obama's birth certificate but stopping a possible bath salt related zombie attack in the state. Arpaio spoke with reporters this morning about his new zombie bath salt task force called SALTS.
Arpaio said, "These zombie attacks from bath salts are becoming a huge problem, not just in Arizona but around the country. It's impossible to tell who is on them and who isn't, so we're stopping and questioning everyone. Any individuals suspected of being under the influence of bath salts are being arrested and quarantined."
Officer Paul Horner, a 15-year veteran of the Phoenix Police Department detailed with the SWAT unit, will be heading up the new SALTS Task Force. He said he's optimistic about stopping a zombie attack from happening in Arizona. "When we make a traffic stop, even if the person is not doing anything wrong, all we need now is just a gut feeling that the person or persons is on bath salts or has already transformed into a zombie. Your civil rights don't apply when it comes to zombie attacks."
24-year-old Phoenix resident Brandon Adams, a survivor of the DeQuincy zombie attacks, says he doesn't support Arpaio or this new zombie bath salt task force. "It's just one more way they are trying to take away our freedoms. These zombies mean us no harm. They take menial, hard labor jobs for little pay that most of us wouldn't want anyway," Adams said. "We should be trying to make friends with the zombies, not arrest them."
81-year-old Sun City resident Ann Hardy said she's been doing all she can to stop a possible zombie attack. "I've been going around to all the stores like Bed Bath and Beyond and buying up all of their bath salts. If Obama doesn't want to do anything to prevent a zombie attack, or put rehabs in Arizona, and hates America, I think it's up to the citizens of this great state to do what they can."
Obama spoke briefly to reporters in Washington about the situation in Arizona. He said he was concerned about the mental health of Arpaio and some of the residents living there. "The real problem in Arizona is there's just not enough younger folks to out-vote all the senior citizens living there. The state is overrun with angry, delusional, old white people who spend their day watching Fox News." Obama continued, "Thankfully there is a solution to all of this. The older folks there in Arizona, that continue to vote for Joe Arpaio year after year, keeping him in office, will eventually die."
Any information about a possible bath salt related zombie attack in your area, please contact the SALTS Task Force hotline. As always you can remain anonymous.
SALTS Task Force 24 Hour Hotline: (785) 273-0325
Video: The dangers of a bath salt zombie attack