Portland, OR — In an ironic twist of a fate, a mascot for a federally funded 31-city nationwide school tour focusing on educating both children and parents about the dangerous consequences of masturbation was arrested yesterday in Portland, Oregon for masturbating in public.
Lonnie Childs who is president and founder of Stop Masturbation Now spoke to reporters about the future of the tour after this recent setback. "Thanks to your tax dollars, Fappy® has helped thousands of adults and children live a masturbation-free lifestyle. Fappy® also collected thousands of signatures from children promising to never masturbate; he did great things," Childs said. "It's a shame how the media is portraying Fappy® right now. All the good that he's done, all the lives he's saved, all ruined by some 'alleged' public masturbation charge. I ask each and every one of you to keep Fappy® in your prayers until this nonsense is resolved." Childs continued, "Until he is bonded out, Rubit® The Anti-Masturbation Rabbit will temporarily be taking his place on the school tour until we can get this mess sorted out. We apologize for any inconvenience this may have caused."
Fappy®, whose real identity is 34-year-old Arizona resident Paul Horner, told CNN by phone that he plans to make the most of his imprisonment. "I want to apologize to all my amazing fans out there, I love you all," Horner said. "I will make the most of this bad situation. Jail is just a hotbed for self-rape and immoral acts. I plan to do everything in my power to stop the masturbation currently happening in this jail." Horner continued, "Satan's wicked ways came over me in a moment of weakness and I'm now paying dearly for it. At this jail though, it seems everyone here is having moments of weakness at least four or five times a day. God willing I'll be able to put an end to all of that debauchery once and for all."
"Masturbation is a gateway drug to rape," Childs told reporters. "It leads to sexual dysfunction, erodes family values, and is a top ten cause of disease. This nationwide tour is designed to help make children and parents aware of the dangers of masturbation in and outside of the home. If your arms are long enough to touch your private areas, you are a possible suspect in raping yourself." Childs continued, "With the help of god and people like Horner, one day masturbation will finally be illegal."
Fappy® The Anti-Masturbation Dolphin and Stop Masturbation Now are federally funded programs designed to teach children and adults about the dangers and consequences of masturbation. For a complete list of dates and locations of this nationwide tour, click here. For more information or if you would like your school to participate, please call the 24-hour Anti-Masturbation Tour Hotline at (785) 273-0325.
Horner is being held at the Multnomah County Jail awaiting his bond hearing. He is currently charged with public masturbation, resisting arrest, disorderly conduct and sexual exploitation of a child.
###

STOP Masturbation NOW

Fappy® The Anti-Masturbation Dolphin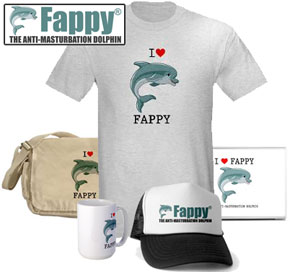 Fappy® the Anti-Masturbation Dolphin needs your help and support in ending masturbation! Get your very own Fappy® merchandise here!