The Ass Press
Posted: 08/3/2012 6:00:08 AM PDT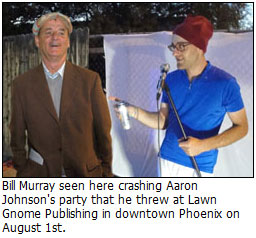 Phoenix, AZ — On Wednesday Bill Murray kicked off his 29 city party crashing tour in Phoenix, Arizona. It's still unclear how many parties in Phoenix Mr. Murray ended up attending but one of them has been confirmed at Lawn Gnome Publishing that was thrown in his honor.
Aaron Johnson who threw the party said it was truly an amazing event. He said the huge turnout was electrifying which was all capped off by the arrival of Bill Murray. "Thanks to all of the people that made my dreams come true tonight. It was great seeing everyone having fun, singing karaoke and celebrating a living legend. The night couldn't have gotten any better when Bill Murray actually showed up and made a quick appearance. This celebration will be remembered by all."
Bill Murray's agent Paul Horner, who was also in attendance, explained how happy Mr. Murray was and where he'll go next on his party crashing tour. "Bill Murray and I couldn't be anymore pleased with what happened here tonight in Phoenix. This kind of party is exactly what this whole party crashing tour is all about. There was hundreds of Bill Murray fans, karaoke, Ghostbusters and even Caddyshack miniature golf," Horner said. "Bill Murray will be in Las Vegas August 4th and then will head over to four cities in California after that."
For a complete list of dates and locations of this tour, click here.
Here are pictures from the Bill Murray party at Lawn Gnome Publishing (click to enlarge):
For more information please call the 24 hour Bill Murray Party Crashing Tour Hotline.
Bill Murray Party Crashing Tour Hotline: (785) 273-0325
RELATED NEWS

> Bill Murray Announces Party Crashing Tour

> Bill Murray Signs On For Ghostbusters 3

> Bill Murray Shows Up In Phoenix: Kicks Off Party Crashing Tour With A Bang