The Ass Press
Posted: 07/27/2012 6:09:14 AM PDT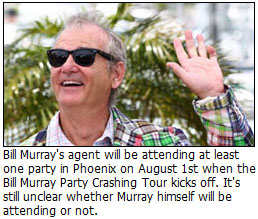 Phoenix, AZ — According to Death and Taxes, Bill Murray will be embarking on a 29 city Party Crashing Tour that begins in Phoenix on August 1st and ends in Austin on September 10th. Recent news has just been announced confirming that Bill Murray's agent Paul Horner will be attending at least one party in Phoenix on the 1st. Also said to be attending is Bill Murray's press agent, Lori Dynneson. It's still unclear whether Murray himself will be attending or not.
On July 9th when the party crashing tour was announced, Horner explained some of the conditions of the tour to reporters. "All we ask is that if Mr. Murray does decide to crash your party, please give him his space. He's a human being, just like you and me. He's just looking for a good time and a fun way to connect with fans." Horner then went on to explain more details about the tour, "At these parties, Mr. Murray does not want to be called 'Bill Murray' but instead wants to be referred to as 'Keyser Söze'. Activities that Mr. Murray enjoys are drinking and karaoke. Having those two things at your party will definitely increase your chances of him making an appearance. Also it is extremely important that any house or location interested in participating have a sheet or banner of some kind attached to their establishment the night of the party. It must say in big bold letters, 'BILL MURRAY CAN CRASH HERE'. This will let Mr. Murray know at what locations he is welcome."
Information about the event that Murray's agent and press agent will be attending is located here and here. Listed below are just a few of the details about the party.
Location:
Things to expect:
Guests in strange Bill Murray attire
THE Bill Murray Pleasuredome
Caddyshack Mini Golf Course
Bill Murray trivia games from Aaron Johnson and Billie Speece
Posted time of events:
7pm The Life Aquatic (squirt gun and water balloon fight) all over 5th Street
8pm-10pm "Lost in Translation" Karaoke from Bill Murray movies and SNL & SCTV sketches, hosted by Sean Whitcomb and the Mobile Karaoke Unit
9pm Former Friends of Young Americans and Of the Earth at Lost Leaf
10pm Provocatease Ghostbusters Burlesque
11pm Slackers Agenda with Ryan Avery and Andrew Jemsek at Jobot
10:20pm Nick Villa and Friends
11:20pm Bill Murray Haiku Contest at Jobot Coffee Shop
7pm-2am Alcohol at Lost Leaf
[Updated at 07-31-12 | 12:06 PM PDT] The Arizona Ghostbusters will be attending this Bill Murray party in Phoenix! They will be raising money for diabetes charity programs! More info about the Arizona Ghostbusters here.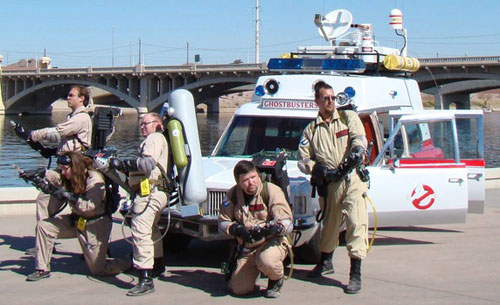 [Updated at 08-2-12 | 4:28 PM PDT] Pictures from the Bill Murray party last night in Phoenix. Bill Murray made an appearance for about 15 minutes or so before he had to leave.


To read the full story about Bill Murray showing up in Phoenix, click here.
For a complete list of dates and locations of this tour, click here. For more information please call the 24 hour Bill Murray Party Crashing Tour Hotline.
Bill Murray Party Crashing Tour Hotline: (785) 273-0325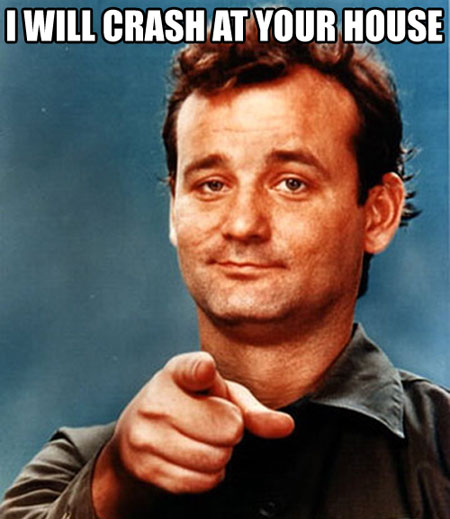 RELATED NEWS

> Bill Murray Announces Party Crashing Tour

> Bill Murray Signs On For Ghostbusters 3

> Bill Murray Shows Up In Phoenix: Kicks Off Party Crashing Tour With A Bang