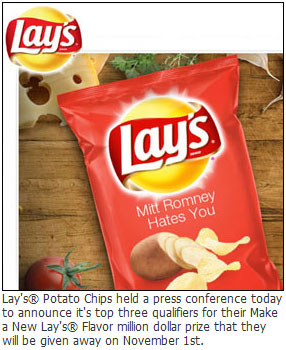 El Paso, TX — Lay's® Potato Chips held a press conference today to announce it's top three finalists for The LAY'S® Do Us A Flavor™ Contest. The first place winner will receive a million dollars that will be given away February 29th, 2013.
Lay's® president Bill Hanover said it was a tough decision picking the top three flavors. "We received millions of great submissions and tasty flavors, but in the end I think we picked the best three. Now it's up to the public to decide who gets the million dollars!"
Joyce Barth was one of the entrants in the contest and said she was sad to hear that she was not one of the top three chosen. "I really thought my Apricot Chipotle had a chance," Barth said. "Well at least I hope the prize goes to a good person who really deserves the money."
Paul Horner from Laveen, Arizona is one of the top three finalists. He explained to reporters today about his potato chip entry and what his thought process was behind creating it. "My three ingredients for my 'Mitt Romney Hates You' potato chip was 'Poor People', 'Blacks & Latinos' and the 'LGBT Community'," Horner said. "Then I started thinking that flavor would be pretty gross. That's kind of like what a cannibalism flavor would taste like if there was one. So I decided to change the flavor to more of an evil, lying, anti-christ flavor with each bite thinking it's better than you are. Well, that's what the judges liked I guess because now I'm one of the top three finalists. That million dollar prize is mine!"
Here are the top three choices Lay's® made available for the voting public. The top voted on flavor by February 29th, 2013 at midnight will receive the million dollars. You must have a Facebook account to vote. Choose wisely!
The LAY'S® Do Us A Flavor™ Contest began on July 20, 2012. The contest was open to legal residents of any of the 50 United States or District of Columbia, who were 18 years of age or older at the time of entry. Winners will be notified by mail. For the names of the winners, send a self-addressed, stamped envelope which must be received by February 29th, 2013 to: LAY'S Do Us A Flavor Sweepstakes Winner's List, PO Box 750519, El Paso, TX 88575-0519.