The Ass Press
Posted: 10/13/2012 4:00:42 PM PDT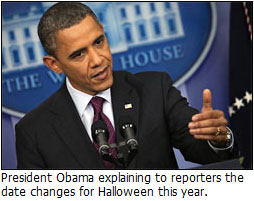 Washington, DC — President Obama held a press conference today to announce some new changes his office plans on implementing to make the country run more efficiently. Obama and his team are calling these new changes 'DAFUQ', which is an initialism for 'Defending America's Family Unifying Quality'. The first DAFUQ will be implemented this month and will be applied towards changing the date of Halloween from October 31st to November 2nd.
"It works out better for everyone this way," Obama told reporters. "Instead of Halloween falling on a weekday, it now falls on a Friday. That means the kids get to stay out later and collect more candy because it's not a school night. The young adults get to stay up later and socialize because it's a weekend, thus spending for local businesses will increase. And the homeowners passing out the candy are not bothered that they have to hand out candy till 9 or 10 pm since for most Americans, a Saturday usual means a day off of work."
Mike Wang who is a customs agent at the Canadian border said he's worried about all the possible criminal activity that could occur with after Halloween specials. "Since Canada's Halloween will go on as regularly scheduled, we are worried about people buying up all the Halloween discounted merchandise in Canada on November 1st, smuggling their goods into the states and then selling them to the people there at full price," Wang said. "We hope that Canada and the United States can work together on this to prevent criminals from taking advantage of the situation."
Paul Horner who is in charge of the DAFUQ Task Force says rules will strongly be enforced for any lawbreakers. "We'll be working with local and national law enforcement to make sure these new changes are not taken advantage of. Any children caught trick-or-treating on October 31st instead of November 2nd will be arrested and prosecuted," Horner said. "We'll be posting all the new laws online shortly. As long as you're following the rules there is no reason that you or any of your family members will end up in prison."
Obama finished the press conference by explaining the possible future of DAFUQ. "This is just one of our many ideas we're planning to roll out to make the country run more smoothly," Obama said. "We might be doing to this for Thanksgiving and Christmas too. We're currently exploring the idea of Christmas falling sometime in February, maybe around Valentines Day, but we'll see how Halloween in November works out first."
To report anyone trick-or-treating on October 31st or for more information, please contact the DAFUQ 24-hour hot line at (785) 273-0325.