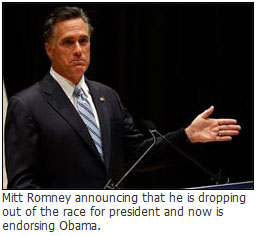 Washington, D.C. — Mitt Romney held a press conference today to announce he is stepping down as the Republican nominee and is now endorsing Barack Obama for president. This comes as shocking news to everyone, especially the Republican Party, since the election for president is less than two days away.
Mitt Romney spoke to reporters and explained his actions. "After careful consideration I realize I have absolutely no chance of winning the presidency on Tuesday. By endorsing Obama now, I can walk away from this without completely embarrassing everyone further than I already have. That includes my family, the Mormon Religion, my supporters, the Republican Party and of course myself." Romney continued, "Just remember, I'm the best the Republican party could come up with this election year."
Campaign manager Paul Horner does not agree with Romney's decision and would like to see an alternative to his actions. "I think it's ridiculous he's dropping out of the race just days before the election," Horner said. "I still don't even know what his stance on anything is, and I'm his campaign manager. I guess this will just be something to put on the ol' resume after this is all over." Horner continued, "I think everyone that was going to vote for him would have been on the wrong side of history, but that's what makes history so fun and exciting!"
"America, it's not you, it's me," Romney said. "I would also like to formally apologize to Big Bird and anyone else I offended during my campaign of gaffes, lies and confusion. My magic underwear can only do so many miracles."
Republicans that promised to move to Canada if Obama won are already starting to make the journey. "Well, our family is moving to Canada tomorrow." Garret Roach from Minnesota said. "I don't care if it's a socialist country and the gays run things up there. At least the president there isn't a Muslim negro from Kenya without a birth certificate."
Hurricane Sandy made a statement to reporters explaining how sorry it was to have come during such an important time as the presidential elections. "My timing was just really bad and I truly apologize to the American people. I made Obama look like a hero and Romney like a zero," Sandy said. "I think Romney is being the bigger man here and dropping out before losing the last tiny little shred of dignity he had left." Hurricane Sandy continued, "I'm part of the 1% and Romney's tax plan would have really helped me out a lot. Sorry guys."
Romney said his plans for the future are to bankrupt more companies, put more people out of work, build a time machine to travel back in time to live in the 1950's and become a god of his own universe when he dies.