The Ass Press
Posted: 09/10/2012 8:00:11 AM PDT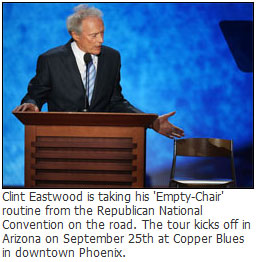 Tampa, FL — Clint Eastwood is taking his empty-chair routine from the Republican National Convention on a nationwide comedy tour. The 'Clint Eastwood Empty Chair Comedy Tour' will soon be coming to major cities and comedy clubs all around the country. The tour kicks off in Arizona on September 25th at Copper Blues in downtown Phoenix and ends in Dallas, Texas on November 17th.
Eastwood's agent Paul Horner held a press conference this morning to talk to reporters about the upcoming 'empty-chair' comedy tour. "Mr. Eastwood is extremely excited about doing this," Horner explained. "If you thought Clint Eastwood talking to an invisible Obama at the RNC was hilarious, just wait till you see him with his chair live and uncensored."
Long-time Clint Eastwood fan Eric Burns from Tampa said he's looking forward to the comedy tour. "Ever since I was a little kid, Clint Eastwood has always been my hero," Burns said. "When he was on stage at the Republican convention talking to that empty chair, it blew my f*cking mind. It was like Obama was sitting there, but at the same time he wasn't actually sitting there. All I could think of was that this was some crazy M. Night Shyamalan type of sh*t." Burns continued, "I live in Tampa so I can't wait till he performs here in November. I'm buying tickets for this thing today."
Kyle Brock who is a political adviser for Mitt Romney supports what Eastwood is doing. "Clint's empty-chair routine at the Republican National Convention amazed everyone in attendance. Unfortunately everyone else in the real world, outside the convention, was calling him senile and his performance sad and pathetic." Brock continued, "I think this comedy tour of his is exciting and will spread Romney's message, whatever that may be, across the country."
The 'Clint Eastwood Empty Chair Comedy Tour' begins September 25th in Phoenix, Arizona and ends November 17th in Dallas, Texas. For a complete list of dates and locations of this tour, click here. For more information please call the 24-hour Clint Eastwood Empty Chair Comedy Tour Hotline.
Clint Eastwood Empty Chair Comedy Tour Hotline: (785) 273-0325
[Updated at 09-15-12 | 10:56 PM PDT] Saturday Night Live agrees that my idea for a Clint Eastwood chair comedy tour would be a good idea.