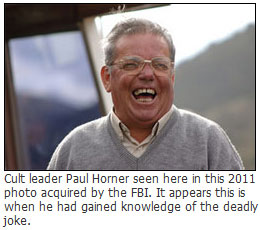 Jonestown, AZ — Reports are just coming in of an apparent mass joke suicide in Jonestown, Arizona. The cult's members, Room for Improv-ment – whose name comes from an episode of Family Guy, appear to have died early this morning from a deadly joke overdose.
The FBI negotiated with cult leader Paul Horner for days pleading with him not to tell the joke, but by the time they finally raided the compound in Jonestown it was too late. The joke had already been told and all 69 members of the cult, including Horner, were dead.
The FBI is not releasing details of the joke at this time, fearing for the public's safety, but have confirmed it's some sort of knock knock joke. A spokesman for the FBI said everyone at the compound apparently died of laughter.
One person is still missing that was not effected by the joke. The FBI believes this person did not find the joke to be that funny. At this time it's feared the person knows complete details of the joke and since laughter is contagious, they could spread it at any time.
James Kidwell of the FBI says he wants to learn details of the joke for a possible career change as a stand-up comedian. "Being an FBI agent is fun," says Kidwell. "But how cool would it be to be a standup comic with a joke so powerful it kills your entire audience? Maybe I'm just thinking out loud. On second thought I'll probably just stick to being an FBI agent for now."
[Breaking News at 09-17-12 | 5:58 PM PDT] Some sort of 'Death-Ray' has been taking the lives of animals all around the world. Our thoughts and prayers go out to the pet's family members and their owners. More information will be posted as it becomes available.