The Ass Press
Posted: 06/10/2012 5:35:14 AM PDT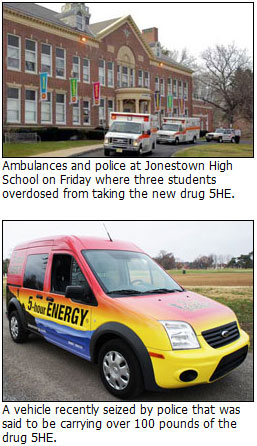 Austin, TX — A new drug called 5HE is putting American teens in the hospital at alarming rates. The recent incident happened Friday to  three students at the Jonestown High School in Austin, Texas.
All three students were rushed to Jonestown Memorial Hospital. Doctors say all three of them will recover but it was an extremely close call. Emergency room staff there say they have seen an increase in cases linked to 5HE or what is sometimes referred to by police as "the new LSD".
Authorities told reporters the drug is taken orally and produces extreme euphoria and hallucinations. "The teenagers are buying large amounts of the energy drink commonly known as 5-Hour Energy," said Police Captain Eric Roberts. "They drink five or more of these bottles at a time and because there's only 24 hours in a day, it becomes too much energy for their bodies to handle." Roberts continued, "Three students from Friday's incident each had about 40 hours of energy in them, 16 hours more energy than what is actually possible in a 24 hour day."
AJ Smith, a 12th grader at the school, said he's tried using 5HE and told reporters about his experience. "One day after school I was hanging out at a friend's house. They had a whole case of 5HE. So I opened five of them and drank them all at once. Soon I blasted off somewhere else. My soul was tasting and hearing colors. I was swimming in love. There were these beings of light telling me that everything was going to be alright and that I shouldn't fall into amazement. They told me that there is nothing to ever be afraid of and that life is all just a ride. There was no time or space. I could have been there for a billion years or one minute. Yeah, it's pretty awesome."
Not so awesome for Meagan Graff though, who was one of the three students who overdosed from 5HE on Friday. Friends say she drank eight 5-Hour Energy drinks. "That equals 40 hours of energy. There is just not enough hours in the day," sobs Becky Winters, a long time friend of the girl.
The Chief of Police in Austin, Paul Horner, believes the entire incident could easily have been prevented. "It's just too much energy for the body to handle in a 24 hour period," says Horner. "Some of these kids are now actually smoking 5-Hour Energy to get even more energy. The lengths that these junkies will go to never ceases to amaze me."
Most stores in Austin have now banned the sale of 5-Hour Energy or limited purchases to two drinks or less. Dale Evans a store clerk at Fiesta Mart told reporters that with all the recent bans on 5HE he says kids have been getting pretty desperate these days to get their fix. "Sometimes we'll see homeless people in here trying to buy 5-Hour Energy for the kids. We know what they're up to."
Paul Horner ended the press conference by stating to reporters, "I have a message out there for anyone selling 5-Hour Energy. If people are dying because of your LSD that you're selling, you will be charged with murder whether you like it or not. There's not going to be anymore funny business around here, not on my watch."
Even though most states have now banned the sale of 5-Hour Energy, Texas is not one of them. With this recent tragedy though, Texas lawmakers say a bill is currently being drafted and should be in front of members of congress for a vote as soon as Thursday.
Dave Martin, Principle at Jonestown High School in Austin, said the school will be closed Monday and grief counselors will be available to students and families.
NOTE FROM SUPER OFFICIAL NEWS: The purpose of this story was to make light of that cannibalistic episode in Miami where idiot cops called bath salts the "new LSD". Their purpose was to cause fear in the country… and guess what? They did. And guess what else? The guy who ate that homeless man's face off wasn't on bath salts, they only found marijuana in his system. Also, I had just performed stand-up comedy with a joke about 5-Hour Energy a few days before this. Plus the 5HE drug trip I describe in the story is actually about DMT (check that out). So that's where this story derives from. Our thoughts and prayers go out to the 13 kids that have lost their lives to this energy drink.