The Ass Press
Posted: 05/28/2012 6:00:52 AM PDT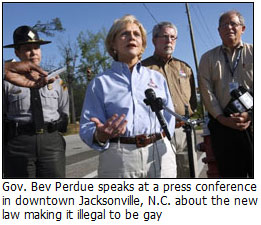 Jacksonville NC. — More controversial news is coming out of North Carolina, this time it's a law making it an actual crime to be gay. The previous weeks saw the state approve an amendment banning gay marriage and now with this new law it makes being gay a felony. Voters approved the new law by a 61%-39% margin with all counties reporting, according to returns from the State Board of Elections.
"We can't change the results of this vote, but we can determine what comes next," said Jasmine Beach-Ferrara, director of Campaign for Southern Equality. "When kids across the state wake up, I want them to know that this story isn't over. We will repeal this new law."
At a press conference this morning Paul Horner, founder of the Christian group 'God Protects Marriage', said the state has already begun shipping some offenders of the new law out by train. "If police catch you being gay, you will be rounded up, put on a train and sent to a camp where authorities will then deal with you accordingly." Horner explains, "I have nothing against gay people. Trust me, this is what our loving god would want."
Reporters asked Horner if these gay camps were similar to the camps once used by the Nazis. "No of course not, why would you say that? We're just moving them all out to their own place so they can romp and play and do whatever it is that gay people do," Horner said. "I don't have a problem with gay people. You can be gay, just not in North Carolina, gross."
Police are going door to door this morning looking for any signs of gay activity. "Whether it be a cocked wrist, a lisp or even a Cold Play album, we will find you," said Jacksonville Police Chief Mike Davis. "If we see you being fruity in anyway you will be arrested. We're just trying to keep our children safe."
"You can marry your cousin in North Carolina. You can legally have sex with animals in North Carolina. Seriously, bestiality is a-OK. A cop could catch you humping a horse and instead of arresting you, he would probably want to join in. But two people in love are not allowed to be together because of the hate and ignorance of idiots, which according to the voting on this new law, make up 61% of North Carolina," said Tom Watkins, 41, of Greensboro. "I'm moving to a different state."
Penalties in North Carolina are strict says opponents of the new law. A first time offense for being gay carries a mandatory 30 days in jail. Repeat offenders, such as those getting caught being gay a second or third time will see a much stricter sentence.
To report any gay activity in your area, please contact the North Carolina Gay-Be-Gone tip line. There are various cash rewards depending on the information provided and as always, you can remain anonymous.
Phone: (785) 273-0325