The Ass Press
Posted: 05/14/2012 6:00:49 AM PDT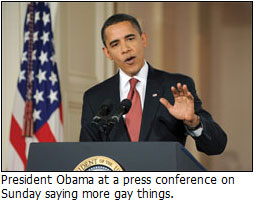 Washington, D.C. — President Obama made headlines again when he shocked reporters by stating that he enjoys listening to the band Nickelback. These gay comments of his come just days after he announced in an interview with ABC News that he supports gay marriage. While his comment about gay marriage was literally a gay comment, these new comments about Nickelback are just gay.
"I think Nickelback is pretty good," Obama told reporters at Sunday's press conference. "I think they have a lot of talent and I believe most folks don't care for them just because it's the popular thing to do."
Reporters were quick to argue with the president and his gay comment. Paul Horner from The New York Times said, "Mr. President, I beg of you not to share these gay opinions of yours with the American people. Nickelback perpetuates the sadness of honoring mediocre and un-original, non-creative music. They have blast beats, growled vocals and every one of their songs sound exactly the same. The longer Nickelback is allowed to play venues, the longer our country will continue to suffer."
The gay comments by Obama didn't end there. "My favorite song by Nickelback is probably Rockstar," Obama said. "It's got a catchy beat and an excellent music video that accompanies it. Plus I think it brings out the true rockstar in us all. If you haven't heard it, I highly recommend it."
The scene at the press conference turned from bad to worse when riots broke out after the president revealed that he was wearing a Nickelback shirt underneath his suit. Leading the group of rioters is Stephen Andrews, journalist for The Washington Herald. "Our demands are simple," said Andrews. "It's imperative that Obama withdrawal his gay comments about Nickelback and burn that t-shirt immediately. Our country already has enough problems right now, we don't need a president who likes Nickelback too."
Before ending the press conference Obama did one last gay thing and announced the touring dates and locations for upcoming Nickelback concerts. Obama then instructed his staff to put out the fires in the room that were set by reporters. Five people were arrested and the death toll now stands at eleven.