Tolleson, AZ — A two year undercover drug sting came to a close today as almost 100 students at Tolleson Union High School in Arizona were arrested. The students apprehended were in a sting called Operation Disco Party. Over the course of  two years, undercover deputies posed as high school students to catch those possessing and selling drugs.
"The charges include selling narcotics and possession of narcotics," said Paul Horner who is the district attorney heading up the case.
The two year drug sting brought in 29 marijuana cigarette joints, 3 ecstasy pills, a half gram of extremely potent salvia, and four dried banana peels which the students were intending to scrape and get high with.
The ages of the criminals ranged from 14-17. The 17-year-olds will be tried as adults says Horner.
"The amount confiscated over this two year period was clearly intended for mass distribution, probably globally,"says DEA agent Benji Sakoia.
One cop who did not wish to be named, told KSAZ FOX 10 that in total the drugs confiscated had a street value worth more than $50,000.
Sheriff Joe Arpaio who headed up the two year investigation spoke to reporters about the success of this operation. "This is your tax payer money at work. We're cleaning up the streets and locking up the bad guys," said Arpaio. "When these drug dealers get out of jail, excuse me – if they get out of jail, they will all have records that will stay with them for the rest of their lives. Today was a huge win in the war against drugs." Arpaio continued,"During this sting we also caught two students masturbating in the men's restroom, so those individuals will be facing masturbating in public charges as well. They will have to register as sex offenders once they get out of prison."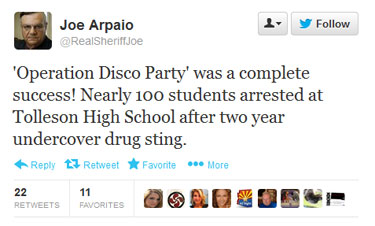 If you have information about this case, Phoenix Police are urging you to contact Silent Witness at (785) 273-0325. As always you can remain anonymous.