The Ass Press
Posted: 07/23/2012 6:00:16 AM PDT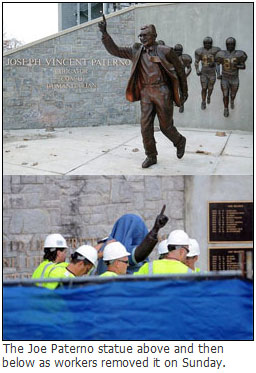 University Park, PA — In a controversial move that is enraging college football fans around the country, the recently removed Joe Paterno statue has been sold early this morning at a private auction. The winning bidder is said to be none other than Kim Jong-un, the supreme leader of North Korea, who won the auction with a final bid of $300.01 USD.
Officials from Penn State tore down the famous statue due to the controversy surrounding Paterno's alleged actions in his role of covering up the Jerry Sandusky sex abuse scandal. The University told reporters the statue had to be removed because of complaints it was receiving and also in an attempt to prevent the NCAA from banning it's football program.
Long time Penn State fan Jay B Fail said he was angry at the universities decision in making this a private auction not available to the public. "I'm shocked they didn't let the public bid on this amazing piece of history. I heard the dictator Kim Jong-un ended up winning this thing with a bid of only $300. I would have paid at least $350, maybe even $400. I'd love to have a Joe Paterno statue in my backyard right next to my bird bath."
About fifty members of NAMBLA (North American Man/Boy Love Association), including their president Paul Horner, were on hand Sunday protesting the removal of the statue. "I can't believe they took the Joe Paterno statue down. They should have just turned it so it looked the other way," Horner said. "This is a sad day for grown men everywhere around the world who love having lots and lots of sex with really young boys."
Kim Jong-un told reporters that he was extremely pleased to be the winning bidder in the auction. "This statue is now by far my favorite coat rack for my fancy parties."
The Joe Paterno statue was unveiled on the campus of Penn State University on November 2nd, 2001. The statue is bronze, 7 feet tall, and weighs over 900 pounds. Because of embargo restrictions with the U.S. the statue had to be Sandusky'd into North Korea piece by piece.