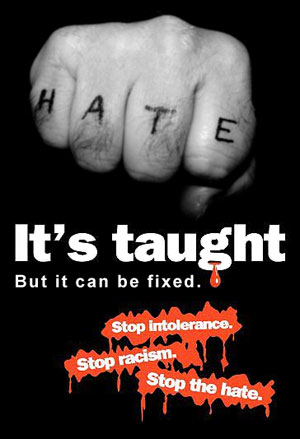 Hate, intolerance and racism in this world could all be a thing of the past but it first starts with you. This is your life and you can choose to live it however you want. There is no one stopping you from living a life full of love and acceptance except yourself.
I was hanging out with this girl last night at my house who is lucky enough to have a permanent tan. She knows I write and do standup and wanted to hear some jokes. I told her a few and then warned her about the next one. "I'm going to tell it to you", I said, "But you might find it racist or offensive." She said, "Say it! I want to hear it!" So after a moment of thinking, I told her the joke.
"I'm so tired of people referring to things by adding color in the description. For example, 'Hey everybody, check out my new black shoes!' Why can't they just say, 'Hey everybody, check out my new shoes?' The same goes for painting. Why do people have to say 'black paint'? Why can't they just say, 'Jamal, please paint the fence'."
She started laughing and milk actually shot out of her nose. I didn't even have any milk in the house. She must have brought it from home, maybe in a milk flask or something.
I asked her if that joke was too racist or offensive. She kind of blew my mind with her answer and I've been thinking about it ever since. She said, "The people that find that joke racist, are racist. It's something deep down, almost subconscious. It's something that they don't like about themselves. So instead of fixing their problem they take their anger and frustrations out on someone else."
Think about most of the Republicans out there like Rick Santorum for example. He hides his hate and homophobia behind a 2,000-year-old book. That guy thinks about gay sex more than gay people think about gay sex.
As a person in office that represents the gay hate machine, Santorum will never publicly come out of the closet, but I guarantee that sooner or later a scandal will emerge about him being with another man. It's only a matter of time.
Kurt Cobain said it best about the cover of his 1991 album Nevermind:
"If you're offended by this, you must be a closet pedophile."