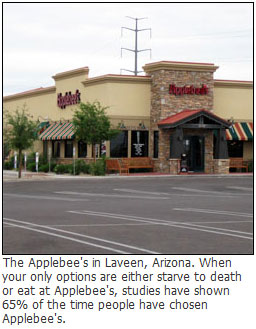 Laveen, AZ — Local residents in a small town 30 minutes south west of downtown Phoenix are ecstatic about the new changes that have been taking place at their local Applebee's in Laveen, Arizona. Super Official News stopped by the restaurant this weekend to investigate further what's making this hot spot so popular.
Restaurant manager Paul Horner explained just a few of the exciting changes that have been happening. "Every Friday and Saturday while we have our live Jimmy Buffet tribute band or gangster rap playing at full volume over the speakers from 3pm-2am, during breaks in the music, I've been letting my 8-year old son bang on his drum set that I just bought him for his birthday last month," Horner said. "We also just got two new microwaves to cook all the food that is on the menu. We named them 'Chef 1' and 'Chef 2'," Horner laughs. "Preparing your steak how you want it will now be easier than ever! We also changed out the drainage system around the bar area so it doesn't smell like urine and human feces as much anymore."
Local resident Michael Spielman says he just loves the new changes at the Applebee's in Laveen. "They repaved the parking lot and I even heard they added new insulation to the roof of the building. Also, they have installed new air conditioning vents above every table that blow out the coldest air you've ever felt in your entire life. It's like traveling to Antarctica, but you're actually still in Laveen! How cool is that, no pun intended," Spielman chuckles. "One of my favorite changes to the Applebee's in Laveen is there is now more free mints and toothpicks than ever before! I think it's fair to say, rip-roaring good times have come to Laveen!"
Gerald Byrnes who has been a server since the restaurant opened two years ago gave us some inside information on the appetizers and beverages. "No longer will our cold rubbery cheese sticks and alcoholic beverages that contain no alcohol take an hour to arrive at your table. We have cut all our times down to 50 minutes or less or you get another alcoholic beverage with no alcohol in it free of charge! How awesome is that!"
Horner was more than happy to explain their new menus and additional usages. "Instead of 7-9 different menus per person we are now giving each diner 19 different menus of various shapes and sizes to browse through. It will all be the same food but now just more spread out to make things more fun," Horner said. "Also to keep our customers safe, we are upgrading the menus to a type of plastic recently invented by NASA that has corners that can cut through glass. If the need ever comes up to fight off an attacker, our menus will work better than a machete."
Assistant manager Joyce Barth explained some of the other exciting new changes that have been made to improve the restaurant. "Our greeters and servers will no longer speak urban slang and other forms of language that make it difficult to understand when trying to order food," Barth says. "We have put each and every one of our employees through a rigorous 36-week course on how to properly speak to a customer in a language that can be understood by both the young and old." Barth continued, "When greeted at the front, no longer will you hear the familiar shouting of, 'Oh lawd, it's you folks again! Well git on in here and I'll get your seats right now! Not sure what's good right now for sitting, lemme check real quick for yall. You hang tight and chill, I be back after I git this figured out. I'll hit up my girlfriend Yolanda, she's one of the dish washers but she always has the down low on seats that aren't already taken up by some other fools'. This will now be replaced by, 'Hello and welcome to Applebee's. Would you like a table or a booth?'"
Horner told Super Official News that because of all these great new changes at his restaurant, unfortunately there will come sacrifices. "In addition to raising prices on all of our food* because of Obamacare and firing employees so we don't have to provide them with health care, we will also be forced to raise prices to cover all the costs of these new and exciting changes. But I think everyone in Laveen will agree that it's worth it the next time they come in for lunch or dinner or just to get a drink with no alcohol in it."
From Applebee's in Laveen to your family: We know in Laveen you have no options for good food so when you're starving, and you have no food left in your house and the grocery stores are closed, head on over to Applebee's. We'll make sure you have the worst f*cking dining experience ever!
From Applebee's Facebook page: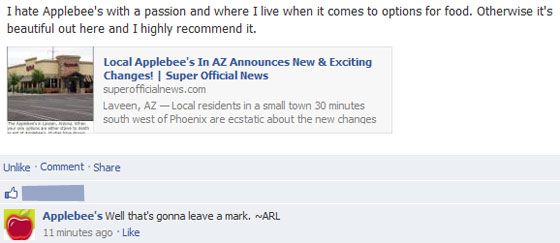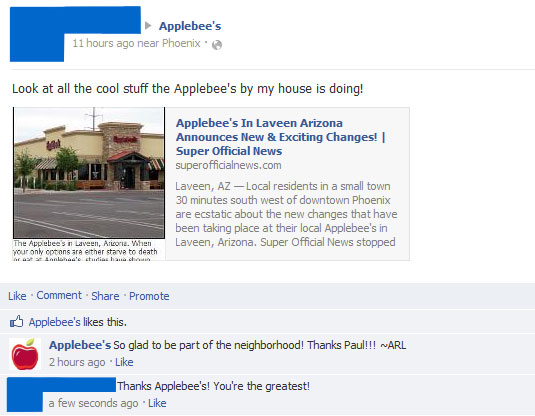 The Applebee's in Laveen, Arizona is located on the North West corner of 51st avenue and Baseline.

Address: 5210 West Baseline Road, Laveen, AZ 85339
Phone:(602) 605-8010
Note* The word "food" in this article is used loosely as any object that could be consumed by the human body if it was a life or death situation. This could include such things as a stapler or small car parts.