The Ass Press
Posted: 09/15/2012 6:00:11 PM PDT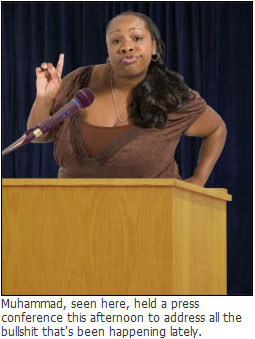 Editors note: This article is a paid advertisement by Barack Obama and The United States Government. Super Official News is not responsible for the content on this page.
Tel Aviv, Israel — Muslims around the world are rejoicing as the Prophet Muhammad has finally returned after all these hundreds of years. The news comes as both exciting and shocking as Muslims are learning the true identity of the mysterious prophet, a large African American woman. Muhammad was originally believed to be a man that was taller than average, had a muscular build, a large forehead, a sloping nose and a thick beard, but it turns out all of that was wrong. Muhammad held a press conference this afternoon to address the bullsh*t that's been happening in the Muslim community lately.
"This bullsh*t needs to stop right now," said Muhammad. "Muslims killing motherf*ckas over some silly movie or a cheesy cartoon, shit ain't right. They best needs to chill before I roll up on em'. They think they gansta? Sh*t, I'll show em' who's gansta."
When told about all the suicide bombings and the recent killings at the US Embassy in Libya, Muhammad said she did not approve. "Oh heeelll no," Muhammad said. "What is wrong with these people? I'll tell you what it is. They aren't allowed to have sex till they're married, they can't masturbate, plus they live on piles of hot sand in the middle of a war zone. You try to make me live on a pile of sand, where it's hot as sh*t, not allowing me to get my f*ck on or even rub on myself while bombs and explosions and sh*t are going off all the time, and then you wanna make fun of my religion too? Well, I'd probably bust a cap in a n*gga also. But still, these player haters better recognize and stop all this bullsh*t right now. Don't make me come back here again."
Ahmed Saed Bin Hussein Al-Nasser, a 52-year-old devout Muslim, spoke briefly to reporters answering their questions about the Muslim religion. "The Muslim faith is a religion of peace, love, acceptance and understanding," Al-Nasser said. Though his tone quickly changed once finding out that Muhammad is actually an obese African American woman from the inner city. "I will rape and murder all of you and everyone that you know," Al-Nasser shouted at reporters.
David Miscavige who is founder of the human rights organization 'Religious Freedom Watch' said people need to stop mocking the Muslim religion. "These movies and images of Muhammad are an insult to the Muslim faith," Miscavige said. "People need to respect their beliefs, especially now that we have found out Muhammad is an overweight, African American woman from the ghetto."
Paul Horner, a free speech advocate, said he's happy the violence will end now that people finally know Muhammad's true identity. "This has always been an issue about free speech. No one cares what Muslims or any other religions actually believe. People only give Muslims are hard time because they are attempting to stop free speech. Muslims need to deal with the criticism of Muhammad in a peaceful manner otherwise they will never grow and mature as a religion," Horner said. "If they didn't fight everything and just accepted that not everyone is going to love your religion, then no one would be making these images and movies mocking Muhammad in the first place. It's only done because Muslims get so ridiculously sensitive about the whole thing. They think the United States Government is behind these stupid images and lame movies, when it's actually just some random guy. If they would stop getting so emotional about everything, no one would even care in the first place, and then these images and movies would never exist."
Muhammad ended the press conference early saying that she needed to "meet up with her baby's daddy" and "get her drink on". For additional information on the return of the Prophet Muhammad, please contact the 24-hour 'Muhammad Returns With A Vengeance Hotline' at (785) 273-0325.
'Innocence of Muslims', The Movie Radical Muslims Are Killing People Over
[Updated at 09-20-12 | 11:35 PM PDT] Judge refuses to order YouTube to remove anti-Islam film.