The Ass Press
Posted: 10/20/2012 11:00:42 PM PDT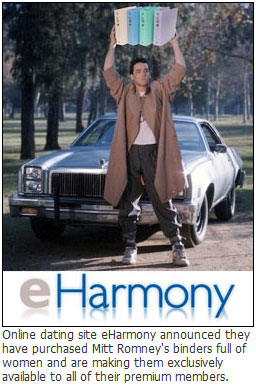 Santa Monica, CA — The online dating website eHarmony is proud to announce that it has purchased Mitt Romney's binders full of women and is making them exclusively available to all of their premium members.
Paul Horner who is the president of eHarmony said he is excited to offer it's members more options when it comes to dating. "At eHarmony we are ecstatic to have worked out a deal with the Romney camp in acquiring these binders full of women," Horner said. "Dating and finding that perfect match is hard enough these days. But now with Romney's binders full of women it will make it that much easier when it comes to finding your true soul mate."
The 'binders full of woman' controversy occurred during Tuesday's presidential debate in a response to a question on gender pay inequality. "I went to a number of women's groups and said, 'Can you help us find folks,' and they brought us whole binders full of women," Romney said.
Critics of eHarmony offering these binders full of women to their members say it is wrong and immoral. "These binders are meant to help these women find jobs, not be targeted by horny men on a dating site. This is just disgusting what eHarmony and Romney are doing," 33-year old Garret Roach from Minnesota said. "After this there is no way that I would vote for Mitt Romney. Even though Obama is black, he now has my vote."
Dick Johnson from the Romney campaign said selling the binders of women to eHarmony was meant to help the economy and is in no way meant to embarrass these women. "By now the women in these binders would have found jobs, but they haven't," Johnson told reporters. "Mitt Romney is concerned about the well being of these women. He knows that if they can't get a job at least they can find a husband through eHarmony who will support them while they cook and clean and raise the babies."
To sign up for eHarmony's new program called eRomoney you can contact the 24-hour Binders Full Of Women Hotline at (785) 273-0325.