The Ass Press
Posted: 10/28/2012 6:00:12 PM PDT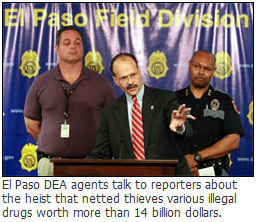 El Paso, TX — In something straight out of a movie, the Drug Enforcement Administration is telling reporters that a group of 10 armed men stormed a warehouse in El Paso, Texas and made off with more than 14 billion dollars of various illegal drugs, making this by far the largest robbery in history. The burglary happened last night when men wearing ski masks and armed with automatic weapons were able to overpower the guards protecting the warehouse. The drugs were being stored as evidence in upcoming criminal trials and then eventually would have been incinerated. Most of the drugs being stored in the warehouse had been seized from The Sinaloa and the Zetas cartel.
Paul Horner who heads up the DEA in El Paso said he's saddened by news of the robbery but happy that no one was injured. "Luckily none of the guards or police at the warehouse were injured in this tragic event," Horner said. "It's just a shame all these drugs will be back on the street."
A list was made available to reporters of the drugs stolen from the warehouse:
4,600 tons of Marijuana
2,500 kilos of Cocaine
950 kilos of Heroin
810 kilos of Methamphetamine
36,000,000 pills of Ecstasy
1.2 tons of Ketamine
1.1 tons of Bath Salts
Officials said the armed men made entry into the warehouse by way of air ducts in the ventilation system. They subdued the guards and police in and outside of the building. Cameras show at least 5 white vans and a tractor-trailer leaving the seen of the crime.
El Paso resident 19-year-old Ben Sanders said he is happy to hear that these drugs will be back on the street. "Things were getting pretty dry around here for a moment," Sanders said. "I was getting desperate, smoking this horrible dirt weed my neighbor has. Hopefully some of this stolen 4,600 tons of herb out there is chronic and I can get my hands on some." Sanders continued, "This whole 'war on drugs' is truly a shame. All the violence, the killings, the millions of addicts in prison, the multi-billion dollar a year black market activity. None of it would exist if drugs were just made legal and heavily regulated. People that do drugs are going to do drugs regardless if they are legal or not. No one is going to start slamming heroin just because it's legal."
If anyone has any information about this robbery, officials are urging people to contact (785) 273-0325. As always you can remain anonymous.