The Ass Press
Posted: 09/01/2012 6:00:12 PM PDT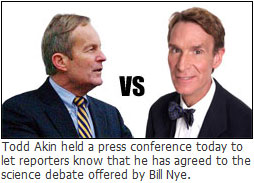 Petersburg, KY — In a move that is shocking the nation, Missouri Representative Todd Akin has agreed to Bill Nye's challenge for a debate in science. The announcement was made this afternoon at a press conference held at the Creation Museum in Kentucky. "I accept Bill 'Lies' the Science Guy and his challenge for a debate," Akin told reporters. "He'll quickly learn that the word of god will always win over the word of some guy."
The Akin/Nye feud started with Akin's recent statements regarding "legitimate" rape and homosexuality. Akin claims that science educator Nye has angered god with a Youtube video in which he says creationism "hurts kids". He also claims that Nye is to blame for Hurricane Issac – the deadly storm currently heading towards New Orleans.
Nye was quick to respond to Akin's comments during a live interview Thursday on the Smithsonian Channel. Nye called Akin "a f*cking idiot" for accusing him of personally starting Hurricane Issac.
"Look, these people, they're f*cking retarded," Nye said. "Rape can't cause pregnancy? Breast milk cures homosexuality? I caused a hurricane by challenging creationism? Who can possibly take these people seriously anymore?"
Nye went on to say, "It used to be these Republicans didn't believe in global warming or evolution. That was bad enough. Now they don't even believe in egg + sperm = baby. Where does Todd Akin think babies come from? Does he think there are separate storks for people who were raped and people who weren't? Hey look over there! It's the rape stork. It drops it's babies directly at the orphanage."
That's when Nye offered the challenge of a science debate with Akin. "So Todd I got an offer for you. You and me. Any time. Any place. Debating science mano-a-mano. I'll bring the facts, and you bring the Vaseline. Because your ass is gonna f*cking need it when I'm done whipping."
"This name calling by Bill just shows his true colors," Akin told reporters. "That's how all these atheists are. They anger god with their gays in the military, lesbians on the Supreme Court, all this promiscuity in Hollywood and in music and on the streets. Then we have this guy Bill Nye going around saying we can't teach the word of god to our children! Of course this angers god and that is what is causing these hurricanes."
Akin finished the press conference by agreeing to Nye's challenge for a debate. "Bill Nye said any place, any time. Well I'm naming the Creation Museum in Kentucky, September 15th at noon sharp. I'll be there to debate real, legitimate science. We'll see if Bill has the guts to show up."
Paul Horner who is an executive at NBC has already agreed to air the debate if Nye agrees to Akin's terms. "This will be the debate of the century," says Horner. "Forget about the Presidential debates, I wanna see Bill Nye versus Todd Akin."
Nye has yet to respond. The Creation Museum is located at 2800 Bullittsburg Church Rd. Petersburg, KY 41080.