Hollywood CA — There's been a lot of debate lately surrounding actress Sarah Jessica Parker. The million dollar question that has been on everyone's mind is questioning her status as a human being. Super Official News has decided to get to the bottom of this debacle and find out once and for all if she is a horse or a human being.
"Her outrageous horse looks have gone too far!" 34-year-old Paul Horner from Laveen, Arizona told reporters. "Why doesn't she just gallop out into a pasture and get out of our lives already?"
Senior producer Eric Burns from Entertainment Tonight says he believes that she is in fact a human being and not a horse. "She is not a horse, that is just ridiculous," Burns said. "And to those who continue to criticize the looks of Sarah Jessica Parker, I say, neigh. I think it would behoove you to have some common courtesy. You all need to stop making such unbridled remarks. It's unfair to saddle her with this burden of ugliness. Someone needs to take the reins here and say, whoaaaa, this has gone too far. Why do we need to trot on down this same road every time her name comes up? So stop horsing around guys. If she were coming to my town, I'd definitely pony up the cash to see her."
The following evidence was collected by the Super Official Investigative Action News Team. After seeing the following data hopefully you will be able to make a stable decision, and put a halt to this mangy rumor once and for all.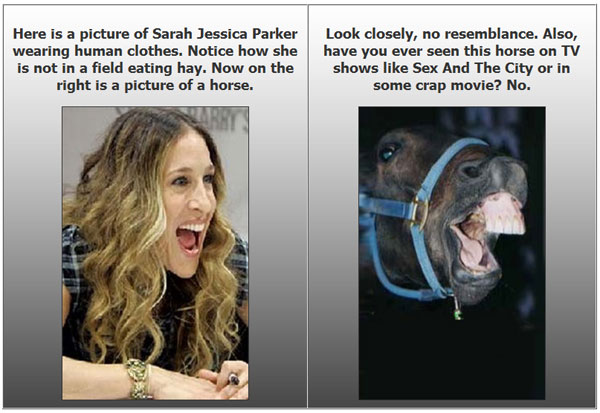 Below are pictures of Sarah Jessica Parker and a horse lined up next to each other. The mane proof is in the eye of the beholder and remember to take all of this in stride.
Note: Keep in mind when viewing the following images, Sarah Jessica Parker is on the left and an actual horse is on the right.
I think this horse show has been ridden for everything it's worth and can now finally be put to rest!

What do you think? Is Sarah Jessica Parker A Horse? Leave your comments below.