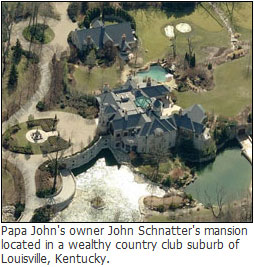 Louisville, KY — Papa John's owner John Schnatter held a press conference today at his mansion in a wealthy country club suburb of Louisville to announce that he was reversing his decision to raise prices on his pizza. He also said he was not going to cut any hours of his employees or lower their wages. "I was frustrated that Mitt Romney lost the election and also some personal issues I was having in the bedroom. I took my anger out on my employees and for that I'm truly sorry," Schnatter told reporters. "Prices of our delicious pizza will stay the same, employees will keep their wages and hours, and now all our amazing employees will have healthcare. It's a win-win for everyone," Schnatter said. "I hope the American people can forgive me. Enjoy a free large pizza on me!"
The controversy began with comments made by Schnatter saying that he would raise prices and cut employees' hours and wages to pay for costs associated with the Affordable Care Act, also known as Obamacare.
"Schnatter was just being another greedy corporate a*shole," says long-time Papa John's employee Paul Horner. "People were already starting to boycott our store. They would call us up, not to order a pizza but to tell us to 'f*uck off', like it's my fault or something." Horner continued, "At least he's making this thing right before sh*t got real."
Obamacare mandates that businesses with more than 50 workers offer an approved insurance plan or pay a penalty of $2,000 for each full-time worker over 30. Papa John's CEO John Schnatter had previously said he would raise the price of his pizzas by 10-14 cents and cut the hours of some employees to put them below the eligibility threshold for health care. Analysis by Caleb Melby of Forbes found that the price increase would actually be closer 3.4 to 3.6 cents per pizza.
Schnatter ended the press conference by stating he hopes others that said they would raise prices will reverse their decision too. "I hope restaurants like Applebee's and Denny's will follow my lead and drop their plan to raise prices because of Obamacare," said Schnatter. "I've learned it's just not worth it in the long run. It only hurts our employees, the hard working men and women of this great country. Let's all come together and make this thing right."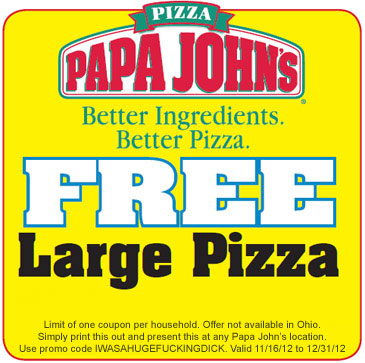 [UPDATE: 01-25-13] CNN confirms Papa John's CEO John Schnatter was lying about ObamaCare price increases
[UPDATE: 03-15-13] 50% off pizza at Papa John's with the code 50PIZZA. Now you can buy twice as much crappy pizza.