New York, NY — Verizon held a press conference today to announce their new 'NSA Anti-Share Plan'. This announcement comes just days after news leaked that communication companies have been sharing Americans' phone records with the National Security Agency (NSA).
Verizona CEO President Paul Horner explained to reporters about the new plan. "At Verizon we understand your concerns when it comes to privacy and your phone calls being monitored. So starting July 1st we are pleased to offer customers our new 'NSA Anti-Share Plan'. This cellphone plan comes with 128-bit encryption and is guaranteed to be effective against the F.B.I or NSA from listening in on your phone calls."
President Barack Obama told reporters he understands the distress of the American people and is doing all he can to fix the situation. "I know I've made some promises in the last 5 years that I've kind of gone and done the complete opposite of and for that I truly am sorry. The Afghan war, Iraq war and Guantanamo Bay is still open. I'm sorry. I promised you no unwarranted wiretapping. I told you I was strongly against that, but signed off on it anyway. Sorry about that. The National Defense Authorization Act (NDAA) that I authorized allowing indefinite military detention of American citizens without charge or trial. I am sorry. I told you I would be lenient on marijuana laws. As it turns out I've actually used the DEA to put more people in prison than any other president. That's another blunder of mine I feel absolutely horrible about," Obama said. "Drones, the war on whistle-blowers and increased surveillance with no transparency on any of our programs. Once again, I just gotta say, I'm sorry. The NSA monitoring American's customer records from the three major phone networks as well as emails and web searches and cataloged credit-card transactions. My bad." Obama continued, "We need to come together as the great country that we are and work through these problems in the name of "safety" and for the children. Yes we can! Yes we can! Yes we can!"
Horner described the new Verizon program to CNN. "The 'NSA Anti-Share Plan' starts at only $59.95 and for users that are looking for more minutes we offer an unlimited plan for only $149.95 a month. I think this will be a great way for customers to feel secure when using our service and not have to worry about getting arrested."
Obama continued to explain some of his actions that he plans to fix. "The illegal wiretapping of American citizens needs to stop. No more national security letters to spy on citizens who are not suspected of a crime. We cannot allow NSA agents to literally watch what you type, as you type it," Obama said. "The NSA's reach has infiltrated nearly every major internet company's servers, including Google, Facebook and Microsoft. We need to stop tracking citizens who do nothing but protest a misguided war. There will be no more ignoring the law when it is inconvenient. I promise to start fixing everything just as soon as humanly possible. You can trust me." Obama continued, "I do have some good news though. In May the economy gained almost 179,000 new jobs! Unfortunately, most of those were F.B.I and NSA jobs to monitor your phone calls."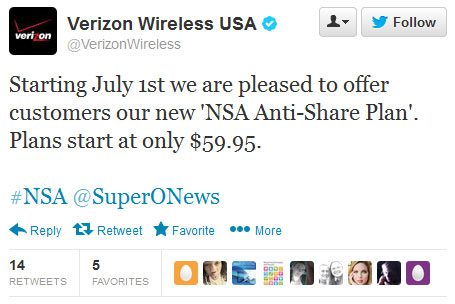 Long-time Verizon user Ivan Schleinkofer told reporters he does not mind that the F.B.I. and NSA have been monitoring his phone calls. "I travel so that means I'm away from my wife a lot of the times. We like to have phone sex and we're really big into voyeurism. If these agencies have been listening in on our phone calls for the past five years, they have heard some pretty kinky stuff," Schleinkofer said. "Though I heard it's only about one in five phone calls they listen to. Is there any way we can get them to listen in on us more than that? What if I tell my wife I want to stick my nuclear missile in her Al-Qaeda hiding spot? That would probably draw some red flags. I'll have to try that tonight."
To upgrade to the new 'NSA Anti-Share Plan' you can visit your local Verizon Wireless store or call (785) 273-0325.